At Footprint we are able to print any full colour advertising banner,
They are printed on high quality white PVC, M1/B1 fire-rated, weather and fade resistant printing for approx 1-2 years, each banner comes hemmed and with metal eyelets punched through for fixings, i.e using bungie cords, cable ties or just screwed to your wall or fence.
Footprint can also supply banner frames, as the image below,  that can be fixed into the ground making it easy to change the banner with your next offer of happening attraction at your business .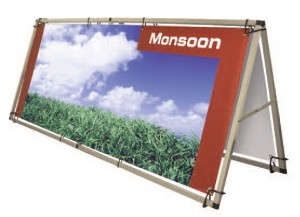 Our PVC advertising banners are a very popular marketing tool used by businesses for promotional activities. They are great for in-store promotions when used together with roller banners. Banners are also perfect when promoting outdoor events, sports days, various shows and many more.
Footprint can provide an artwork / design service to make your banners as attractive as your brand.
We can print small or huge outdoor PVC banners, We also offer a mesh banner material to allow the wind to pass through, ideal if your banner is located in a windy area.
Call us at Footprint or email us for a price on your next banner.